Fujitsu Upgrades Indonesian JaKa2LaDeMa Submarine Cable System to 100Gbps – Dec 20, 2013– Tokyo, Japan (Techreleased) – Fujitsu today announced that it has deployed its latest DWDM(1) transmission equipment to increase the network capacity of Indonesia's JaKa2LaDeMa(2) submarine cable system. This upgrade boosts the submarine system capacity from 10Gbps per circuit wavelength to 100Gbps. By ensuring smoother communications and keeping pace with Indonesia's soaring communications demand, which has increased in line with the prevalence of smart devices, the capacity increase will contribute to Indonesia's rapid economic growth.
Overview of the JaKa2LaDeMa Submarine Cable System
JaKa2LaDeMa is a submarine cable system installed in 2010 by Fujitsu and Norddeutsche Seekabelwerke GmbH, a major cable manufacturer in Germany, for PT. Telekomunikasi Indonesia, Tbk (P.T. Telkom Indonesia), the largest telecommunications carrier in Indonesia. JaKa2LaDeMa, with a total length of 1,800 kilometers, is the first submarine cable system that links the five Indonesian islands of Kalimantan, Sulawesi, Java, Bali, and Lombok.
Background to the Capacity Upgrade
In Indonesia, which has been enjoying solid economic growth in excess of 6% in recent years, IP traffic is expected to grow by 42% between 2012 and 2017, the second-highest growth rate in the world(3). By expanding and enhancing Indonesia's network infrastructure, this project will make a significant contribution to the country's economic development.
Fujitsu Initiatives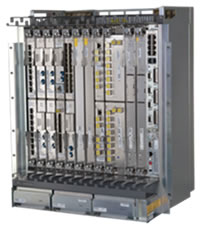 FLASHWAVE 9500
Fujitsu installed its FUJITSU Network FLASHWAVE 9500(4) multiplexed optical transport platform, which is its newest DWDM system employing the latest digital coherent technology(5), and its monitoring system, the FUJITSU Network NETSMART 1500(6).This upgrade employs 100Gbps transmission technology in a submarine cable system within Indonesia and provides for five-times greater capacity, for a total of 490Gbps on the existing submarine system. It is also possible to further upgrade this total by a factor of five in the future.
This capacity upgrade uses the latest optical transmission technology to enable the customer to maximize the utilization of the existing system, which was constructed with a significant investment.
Fujitsu will continue to meet the demands of customers around the world who need higher-performance and highly reliable and flexible submarine cable systems.
1 DWDM:

Dense Wavelength Division Multiplexing. Wavelength-division multiplexing using dense wavelength patterns. Backbone network equipment for high-capacity, multi-channel communications.

2 JaKa2LaDeMa:

Jawa-Kalimantan-Sulawesi-Denpasar-Makassar

3 IP traffic growth of 42%:

Source: Cisco Visual Networking Index

4 FUJITSU Network FLASHWAVE 9500:

A Fujitsu product with a cumulative installed base of 8,000 units, and with the highest market share of 22% in the North American market, according to Optical Networking Equipment share in North America Market CY3Q12-2Q13 (Source: Ovum).

5 Digital coherent technology:

The latest optical transmission technology with the most promising future for high-capacity, long distance communications.

6 FUJITSU Network NETSMART 1500:

Integrated network management system for a variety of transmission equipment, including the FLASHWAVE 9500.