Oct 19, 2012– Tokyo,Japan  (Techreleased) –Fujitsu today announced that a new lineup of consumer PCs and tablet products built for Microsoft® Windows® 8 will be available in Japan starting October 26. With a total of 19 models in nine product series, the new lineup includes updates from the FMV Series of consumer PCs and the ARROWS Tab Wi-Fi series of water-resistant tablets, as well as models from the new Floral Kiss brand, which is targeted toward female customers.
As part of the new lineup, Fujitsu will be offering the water-resistant ARROWS Tab Wi-Fi QH55/J, the world's thinnest(1) water-resistant Windows 8 tablet, as well as FMV ESPRIMO FH 98/JD, which is equipped with an eye tracking sensor—the latest proprietary Human Centric Technology from Fujitsu—that allow users to operate the computer screen with their eye movements. In addition, all of the models will be delivered together with Fujitsu's consumer cloud service, My Cloud, which enables users to take full advantage of the computing power of their PCs and tablet devices.
Through hand gesture recognition technology and Fujitsu's proprietary Human Centric technologies such as eye tracking assistance, the new product lineup provides to users a host of easy-to-use, convenient features that deliver an intuitive experience for an enjoyable Windows 8's user interface, one of the operating system's biggest strengths.
Eye tracking
Users can scroll the screen in all four directions by simply moving their eyes, marking a new approach to operating computers.(2)
Touchscreens
Tablet devices can be intuitively, easily, and instantly operated using touch-based operations.(3)
Hand gesture recognition
By simply gesturing in front of a built-in web camera, some models can be operated without the use of a keyboard or mouse.(4)
Large touchpads
With the large touchpad found on many of the models, operations can be made with a finger with the same convenience as a touchscreen.(5)
Wireless touchpads
Some models feature a touchpad that can be operated even when separated from the body of the device, enabling convenient touchscreen-like operations.(6)
Starting today, Fujitsu will roll out its proprietary My Cloud personal cloud service on all of the new product models. This provides access to the My Cloud Library, an online high-capacity storage service providing up to 5GB of free space, as well as My Cloud Mobile Access, so users can access the storage on their home PC when they are on-the-go.
Main Product Features
1. ARROWS Tab Wi-Fi QH55/J: World's slimmest water-resistant Windows 8 tablet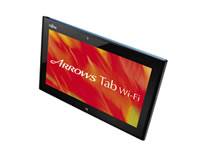 ARROWS Tab Wi-Fi QH55/J (Grace Black)
The ARROWS Tab Wi-Fi QH55/J is the world's slimmest water-resistant tablet running Windows 8. It offers high performance, enabling it to be comfortably used for either personal or business applications, in a slim 9.9 mm body. Weighing approximately 574 g, it enables approximately 10.5 hours of video playback. In addition, it is IPX5/7/8 water-resistant(7), so it can be used around water, including the bathtub and kitchen. Also, since users don't have to worry if the body gets wet in a sudden downpour, they can carry it wherever they go without worry. It is also IPX5 dust resistant(8). Furthermore, by employing an IPS LCD display that enables a clear, crisp picture with a wide viewing angle even when the device is tilted, and by featuring Super Clear Panel, which cuts down reflective glare and displays colors brightly, the ARROWS Tab Wi-Fi is suited for outdoor use.
In addition, it supports multi-user accounts so multiple users can employ their own personalized settings environment. And, while it is a tablet, it comes equipped with Microsoft® Office Home and Business 2010 (SP1), ensuring high compatibility with previous Windows applications and peripheral equipment as well as a comfortable user experience.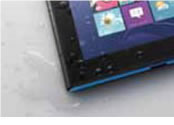 Water resistant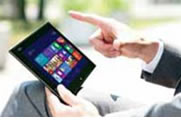 Touch operation
2. STYLISTIC QH77/J: The advantage of flexibility as either a tablet or a notebook PC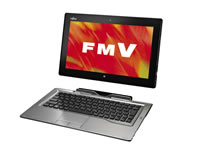 QH77/J (Dark Sliver)
The STYLISTIC QH77/J is a new dual-use style of PC that can be used as both a tablet and a notebook PC. For example, the LCD can be detached and used as a tablet when on the go, and comes standard equipped with a stylus to enable handwritten input. In addition, when being used for writing longer text that requires concentration, users can simply connect the keyboard to the docking station and use it as a notebook PC.
3. ESPRIMO FH Product Series: Loaded with convenient features ideal for Windows 8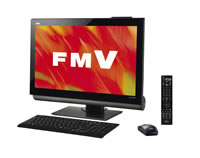 FH98/JD (Shiny Black)
The FH98/JD model features a touch panel screen, which enables smooth-gliding, intuitive operations while touching the screen. It is also equipped with an eye tracking sensor, which is a new operational interface that enables users to move the screen up or down, left or right, just by moving their eyes.
The FH77/JD model supports a wireless touch pad, enabling remote touch operation of Windows 8, so the screen can be manipulated even from a distance.
In addition, both the FH98/JD and FH98/JD models are equipped with high-quality Pioneer speakers which boast the acoustic technologies for which Japan is renowned. Large, track-style, high-output speakers produce a powerful, crisp sound for a rich, high-quality audio, including deep bass.
4. FMV LIFEBOOK UH75/J: World's thinnest Ultrabook™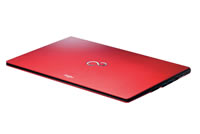 UH75/J (Satin Red)
The LIFEBOOK UH75/J, which is the world's thinnest notebook PC with a built-in hard disk drive, measuring only 15.6 mm thick(9) (at its thickest point), and weighing roughly 1.44 kg, is an Ultrabook™ that features 10.2 hours of battery runtime(10). Featuring Fujitsu's "super-compressed dual grid structure," which leverages Fujitsu's technological track record in striving for thinner and more compact designs, it also employs a magnesium alloy in the top and bottom casing, enabling the top cover to withstand load testing(11) of 200 kg, thereby delivering sturdiness in an ultra-thin form factor. It is an Ultrabook™ with a beautiful design that can be taken anywhere. Furthermore, the large touchpad enables users to perform Windows 8 touch operations.
5. FMV LIFEBOOK AH78/JA: World's thinnest A4-size notebook PC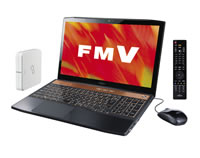 AH78/JA (Shiny Black)
The LIFEBOOK AH78/JA is equipped with a 15.6-inch LCD, an optical drive, and a quad-core CPU. It is the world's thinnest A4-size notebook PC, delivering high-spec performance in a 20.8 mm(12) (at its thickest point; previously 33.0 mm) body. It supports wireless TV, and now comes with high-quality speakers from Pioneer and a 15.6-inch full flat fine-panel IPS LCD. Users can therefore enjoy great sound quality anywhere in their homes as well as beautiful photographs or video.
6. LIFEBOOK SH76/J: World's thinnest mobile notebook
The LIFEBOOK SH76/J measures only 19.9mm(13) (at its thickest point; previously 28.5mm), making it the world's thinnest 13.3-inch notebook PC with an integrated optical disk, in addition to weighing only 1.23kg(14) and offering 13 hours of battery runtime(15). Featuring Mobile Multi-Bay construction, extra internal hard disk units (included standard) and extra battery units (optional), can be swapped freely to meet the user's needs. In addition, with its super-compressed dual grid structure, the LIFEBOOK SH76/J features a robust construction and a clamshell design that looks stunning from any angle.
7. Elegant "Floral Kiss" line of PCs targeting female users
Based upon the design concept of bringing elegance to PCs, Floral Kiss (LIFEBOOK CH series) is a new brand that was planned and developed primarily under the direction of Fujitsu's female employees.
The newly released model, which is the first to be launched under the new brand, has been developed in an all-out pursuit of elegance, from the model's design to its peripheral devices and optional add-ons. It also comes equipped with original applications that women can enjoy on a daily basis. The new model is a Windows 8-based Ultrabook™ featuring a high-performance 3rd generation Intel® Core™ i5 processor and a high-capacity 500GB hard disk drive.
Pricing and Availability
Pricing and Availability
Series
Product
Availability
Pricing
ARROWS Tab Wi-Fi
QH55/J
November 2, 2012
Open
STYLISTIC
QH77/J
October 26, 2012
ESPRIMO
FH98/JD
October 26, 2012
FH77/JD
October 26, 2012
FH56/JD
October 26, 2012
FH54/JD
October 26, 2012
EH30/JT
October 26, 2012
DH77/J
October 26, 2012
DH54/J
October 26, 2012
LIFEBOOK
AH78/JA
November 2, 2012
AH77/J
November 2, 2012
AH56/J
October 26, 2012
AH45/J
October 26, 2012
AH42/J
October 26, 2012
SH76/J
October 26, 2012
SH54/J
November 2, 2012
UH75/J
October 26, 2012
UH55/J
October 26, 2012
CH55/J (Floral Kiss)
November 2, 2012
CH55/J (Floral Kiss agete collaboration model)
November 29, 2012
---