Nov 27, 2012– Tokyo, Japan  (Techreleased) – Fujitsu announced the release of the Wandant dog pedometer, based on motion-tracking technology developed by Fujitsu Laboratories, and an associated cloud service that supports health management for dogs—the first of its kind in the pet care industry. The new product and service will be made available only in Japan from November 28.
With Wandant, the same sensing technologies developed for use in mobile phones are incorporated into a tag worn on the dog's collar, which automatically measures and records the number of steps taken, shivering motions, and temperature changes. These data are collected in the cloud and presented as a graphic on a website that reports trends in the dog's activities that are easy to understand at a glance, facilitating management of the dog's health and preventing obesity.
Fujitsu is using ICT to visualize a pet's health and support the quality of animals' lives for a more prosperous society where people can confidently take better care of their pets.
Given the demographic shifts in modern Japan, where there are fewer children and more people living longer, as well as a growing number of single-member households, pets have become increasingly important as family members and companions. As such, the environment surrounding pets and people is undergoing enormous changes. For example, the percentage of households with dogs has risen to 17.7%, and the average lifespan for dogs has climbed to 13.3 years (equivalent to 72 in humans). Due to these shifts, the aging of pets and their care, as well as problems such as obesity, are becoming increasingly prominent issues. In response, Fujitsu developed the Wandant-based cloud service to support health monitoring in dogs.
Service features
1. Continuous health monitoring and support in preventing obesity
The Wandant tag automatically measures steps, shivering and temperature changes. The data that are measured and recorded by the Wandant tag are automatically uploaded to the cloud using the FeliCa communication system whenever the tag is held near a smartphone or personal computer(7). Once online, the data are presented graphically on a custom website that makes trends in the dog's activities easy to understand at a glance. Owners can add additional information, such as food volume, stool conditions, and current weight using a diary feature on the website. This helps owners get a stronger sense of their dog's health, while enabling communication with the dog.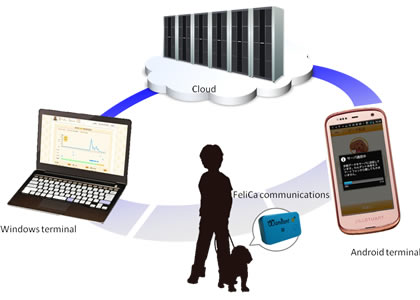 Larger View
2. The pet care industry's first pedometer specifically adapted to dogs
The Wandant tag uses a three-axis accelerometer(8) and automated inference technology to count steps based on detected foreleg movements, the speed of foreleg movements, and leg length, resulting in the pet care industry's first automatic pedometer fully adapted for dogs(9). This results in highly accurate pace counts, measured automatically.
1. Detector: three-way accelerometer
2. Communications: near-field communications (FeliCa protocol)
3. Battery life: Approx. 4 months (under Fujitsu's testing conditions)
4. Dimensions: 46 × 28.4 × 12.5 mm
5. Weight: Approx. 16 g (with battery)
6. Internal data-logging capacity: 14 days
What data is captured, and how it is used
Service interface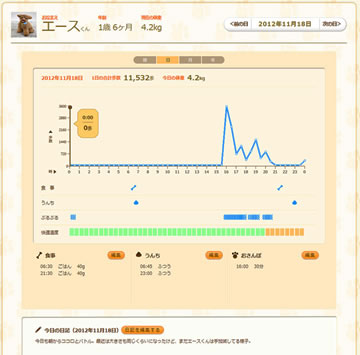 Website for personal computers (Windows screen)
Data measured by the Wandant tag are collected in the cloud, which provides unified management of health data for each pet. In the future, this will facilitate sharing information with veterinarians and research institutions.
In addition, Fujitsu plans to launch a joint study on pet behavior and health in January 2013 in cooperation with Anicom Holdings and Professor Toshiki Sako of the Nippon Veterinary and Life Science University. Fujitsu anticipates expanded features and services for Wandant as a result of these efforts.
Pricing and Availability
A usage fee for one year of cloud service is included with the sale price of the Wandant tag. Pricing after the first year is expected to cost 420 yen per month.
Sales target
400,000 accounts by fiscal 2015.
How to Purchase
The Wandant tag will be available on Fujitsu CoWorCo's "Fujitsu Supply Hiroba" online shops through Amazon and Rakuten. It will also be sold through select pet stores.