Single Supreme Fan Thermaltake Massive V20 Laptop Cooling Pad – Oct 31, 2013–Taipei, Taiwan (Techreleased) – Thermaltake, being an industry leader in computer chassis, thermal solutions, and power supply units introduces another surprising notebook cooling pad from the same Massive series, Massive V20 Laptop cooler, Effective cooling performance with high quality material. Compatible with 17″ notebooks and below. Large 200mm fan with big airflow offers high cooling performance. Big area aluminum mesh allows optimal airflow to cool the notebook efficiently. USB cable management and extender make working environment neat and tidy.
Single Supreme Ventilation
A massive built-in quiet 200mm LED fan with adjustable fan speed offers big airflow and high cooling performance and to reduce the overall temperature of your laptop/notebook.
LED Light and fan speed control
The include LED light switch and fan speed controller allows user to adjust the lighting or the fan speed with ease
Ergonomic Humanity
Thermaltake Massive V20 is designed with all ergonomic concepts, test out the most appropriate angles for user, with the best visual angle and the height position of the hand, it is totally comfortable.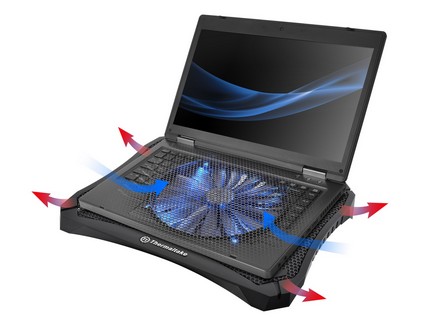 Hexagon shape mesh for maximize airflow
Massive V20 is also designed with brushed aluminum panel for added elegance. Large area of hexagonal shape cooling mesh reduces wind resistance and wind noise, increase airflow through the area.
USB cable management and extender
Unique USB cable management and extender for easy organizing and extension to make working environment neat and tidy.
Thermaltake Massive V20 Cooling Pad suggested price : USD 19.99