LUXA2 Announces world's largest P-MEGA 41,600mAh charging station – Nov 22, 2013– Taipei, Taiwan (Techreleased) – LUXA2 understands the ever-increasing demands human society faces when it comes to portable power technologies, which not only have to be diverse in feature and function, but also fashionistic in appearance. In order to meet today's technological enthusiasts need for high-performance and aesthetically pleasing portable battery packs, LUXA2 have come up with something truly special: the world's first, and the world's largest P-MEGA 41,600mAh charging station.
World's Largest 41,600mAh Charging Station
LUXA2's P-MEGA possesses a titanic 41,600mAh battery li-polymer cell that can charge a device for 48-hours continuously. Not only is it powerful, it is also compact in size and easily portable. The P-MEGA possesses a whopping six USB ports to power six devices – smartphones, phablets, tablets – simultaneously and comes with charging indicators on each port to identify when a device is charging, and will automatically turn off when device is fully charged as to prevent overcharging and overload. In addition, the P-MEGA has three fast charging (2A) ports and three regular (1A) ports to solve your single charging socket problem.
Powerful performance & modernistic appeal
The body of the P-MEGA is modernistic and sleek with a 10x10x10 cubic design that makes it ultra compact when taking into account its power capacity. It also possesses a futuristic and unique blue LED mood light to perfectly match and compliment your surrounding environment. The P-MEGA weighs just less than 1kg making it perfect for both indoor and outdoor use. Never need to worry about running out of power again.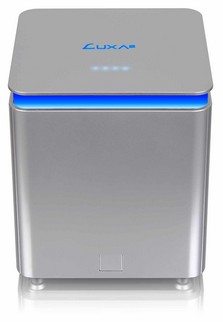 Safety Certification, Two-Year Warranty and On-flight Carry-On Permitted
LUXA2 always places an emphasis on safety and security on all their products and the P-MEGA is no exception. The P-MEGA has gone through rigorous testing and is fully FCC, CE and ROHS certified. What is even more unique is that the P-MEGA meets airline authority legal requirements of portable battery devices to be able to carry onboard flights.
LUXA2 P-MEGA 41,600 mAh suggested price : USD 169