Fujitsu Launches Upgraded FJVPS for More Realistic 3D Assembly Procedure Videos – Nov 12, 2013– Tokyo, Japan (Techreleased) – Fujitsu Limited and Digital Process Ltd. today announced the immediate availability of FJVPS V15L14, the latest version of its FUJITSU Manufacturing Industry Solution FJVPS (Virtual Product Simulator from Fujitsu), a digital production preparation tool for customers in the assembly manufacturing industry that assists in considering product assembly processes using 3D models.
This product is used when considering the assembly process of a product. It simulates the use of assembly jigs(1) and other tools, and even the movement of assembly workers' hands, enabling confirmation that the product can be assembled without any problems. Moreover, because the jigs and other tools can be made to appear in the assembly procedure videos, more realistic and easy to understand videos can be made in a short period of time. In addition, to improve the video production process, the procedures for inputting data on each work step and for editing the assembly flow have been cut by roughly half compared to previous methods. This greatly contributes to improvements in the quality, cost, and delivery of production preparation work, such as design feedback on assembly work problems and the training of workers on complex assembly processes.
Through the batch creation function for product assembly process and batch assembly video generation functions, FJVPS has helped to make production preparation work more efficient. As the scope of assembly videos has expanded to encompass such areas as the overall assembly line and worker training, there has been a rising need for the ability to depict work in greater detail and refine the way FJVPS is used.
To meet these customer needs, Fujitsu and Digital Process are releasing FJVPS V15L14. By raising the quality of assembly procedure videos, it is designed to improve quality, cost, and delivery (QCD) for assembly work, while raising efficiency by greatly reducing the time it takes to make assembly videos. In addition, new features have been added that enable FJVPS data to be used even outside of FJVPS systems.
Features of FJVPS V15L14
1. Addition of jigs, other tools, and hand movement simulations improves assembly QCD
FJVPS enables product assembly to be considered using 3D digital data. This new version of FJVPS enables the jigs and other tools used in assembling a product to appear in the assembly video, enabling confirmation of the extent to which jigs and other tools used in assembling parts interfere with the product. The jigs and other tools can be made to appear in the assembly procedure videos, as well, enabling the creation of videos that are more realistic and easier to understand, and these can also be used for such purposes as training assembly workers.
Moreover, even the hand movements of assembly workers can be simulated on the system, so it can be confirmed whether there is enough space to maneuver tools in assembly.
In addition, a local shot function has been added to enable the depiction of exploded views or illustrations that alert workers so as not to put parts together in a reverse order and to show any differences at the assembly stage. The exploded view can be created in one step. Automatically placed notes and snapshots(2) can be inserted, thereby raising the quality of the assembly video.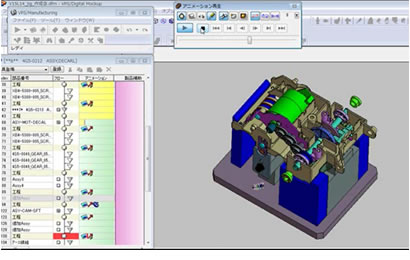 Figure 1. Assembly video with jigs and other tools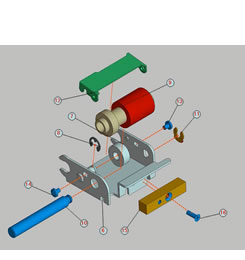 Figure 2. An exploded view image
2. Input and editing steps cut by approximately half, improving operability
By including a variety of assembly information in the videos, FJVPS enables data to be shared across a wide spectrum of divisions, including design, production, and servicing. Based on the attributes of parts used in assembly, such as their part numbers, names, materials, and sizes, work information that conforms to set rules can be input in one step. For example, screws or bolts used in the product can be differentiated by parts numbers, and related assembly work information that has already been recorded, such as assembly time, torque used for fastening, or tools used, can be input in one step, greatly improving routine input work.
In addition, when assembly procedures are changed, by selecting the work step or part to be changed in the FJVPS production flow, anything relating to that step or part is automatically selected, making work easier and helping to prevent mistakes. Moreover, with the assembly sequence editing command, whereas previously one could only change the sequence at the same stage of the same assembly, now it is possible to add sub-assembly sequences or switch the sequence to another stage of the assembly, resulting in improved operability. Through these operational improvements and functional enhancements, the input and editing work for assembly flow data has been reduced by roughly half compared to the previous version.
3. Expanded scope of FJVPS data usage, such as touchscreen functionality
The new FJVPS has touchscreen functionality, so it can be used on a tablet PC at production sites or elsewhere.
Furthermore, in customer systems used for managing parts, such as a web-based product information reference system, the FJVPS form display function can be imported, so that, with information such as a part number, a 3D image of the product can be seen in a web browser. Because light FJVPS data is used, the images can be displayed smoothly even without using a high-spec PC. With parts lists or catalogues that only list part numbers, this function enables users to confirm what the part looks like. It could be used in customers' procurement or servicing divisions.
4. A 3D assembly video browser function provided free of charge
To enable FJVPS data to be widely used, a FJVPS/Viewer is provided free of charge that enables assembly videos to be viewed or forms and dimensions to be confirmed. The Viewer can be downloaded from Fujitsu's FJVPS product introduction site.
Pricing and Availability
Pricing and Availability
Product Name
Pricing (Excl. Tax)
Shipment
FJVPS V15L14
Assembling Animation
980,000 yen
December 2013
Standard
4 million yen
Sales Target
6,000 licenses in the next three years.