Elecom Launches a new plug-in type speaker –Apr 29, 2015– Osaka, Japan (Techreleased) – ELECOM is launching, in late April, a new plug-in type speaker with a sparkling diamond-cut finish for playing music or video audio simply by plugging it into a mini jack of iPhone or other smartphones.
The new line, ASP-SMP051 series, has a diamond-cut finish that makes the body sparkle in a very compact design. It is easy to use for playing music and video audio – just plug it directly into the stereo mini jack of an iPhone or a smartphone and simply turn it on.
Despite its super-compact design with a diameter of 45 mm, a 1.5 W high power output is realized by a built-in amplifier powered by a rechargeable battery, resulting in very satisfying volume that is eight times louder than a smartphone's built-in speaker.
The speaker is a direct plug-in type with the body and plug integrated. It is very easy to play music on smartphones and, because of its size, it can be conveniently carried around. The diamond-cut finish of the body makes it appear in different colors depending on the direction and brightness of light, which adds more fun to listening to music. The speaker* is also compatible with portable audio players and tablet PCs with sound outputs that take a stereo mini jack. *Monaural sounds play back.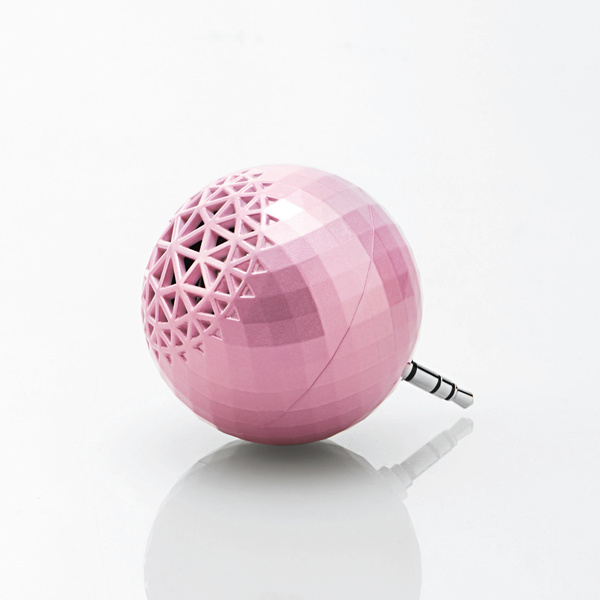 The product has a built-in rechargeable lithium-ion battery which can be recharged from the USB ports of devices such as PCs by using the USB charging cable that is included. Charging with an additional USB-AC adapter is also possible. As it is a rechargeable type, no battery is necessary and it can be used repeatedly. The speaker has enough battery capacity to use outside or at home with a continuous music playing time up to five hours. It has a power switch on the body to allow unnecessary battery consumption to be reduced. The speaker is available in popular black, pink and white.
Just plug this stylish sparkling speaker into your smartphone and enjoy your favorite music at your desired volume. It will provide background music while you are doing chores, working or studying. It will also be your perfect partner when you want to simply appreciate music while relaxing.
Model No.
On-sale date
Countries and regions where the product conforms to regulations

ASP-SMP051BK
ASP-SMP051PN
ASP-SMP051GN
Late April 2015
South Korea, China, Hong Kong, Singapore, Taiwan, Saudi Arabia, Japan